British Hedgehogs are in decline!
Hedgehogs are one of the most recognizable of British wildlife. Sadly, these charming little creatures are in decline and need our help.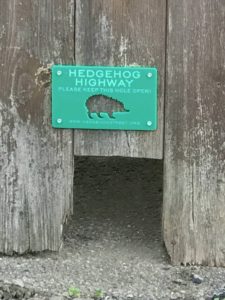 One of the reasons they are struggling is because we keep our gardens too securely fenced, and too well kept. Hedgehogs can travel up to 3km in one night and, as they like to live alone, they need to be able to go to different gardens to find mates, and secure their own territories. If a garden is fully enclosed a hedgehog w
ould be stuck and it cannot meet other individuals to breed. Making a small hole in your fence, or just under it, big enough for a hedgehog to squeeze through ensures they are able to thrive.
Keep an area of your garden wild. Just a small area where bugs and grubs can hide, a hedgehog café so to speak. A log pile is a fantastic option as a home for many animals and maybe even somewhere for our hedgehog to sleep the winter away. You can also buy hedgehog houses, which you can hide in a sheltered area, fill with straw or hay and you have your very own hedgehog B&B.
Finally, you can feed your visitors. You can offer any meaty (not fish) cat food or complete cat biscuits, but better yet, buy a specially formulated hedgehog food like Spikes Dinner.
If you find a hedgehog out during the day or a small hedgehog in late autumn please contact your local wildlife sanctuary for advice. A hedgehog out in the day is usually in trouble and they must weigh at least 450g by the first frosts to survive hibernation (sanctuaries prefer them to weigh 600g before release in autumn).