The holiday season can be stressful when you have pets.
Do you take them with you, find a boarding house, have someone pop in or even housesit and look after your pets? Whatever you decide we've got some products to make things a little less stressful, for you and your pet!
Travelling with your pet
Whether they are coming on holiday with you or going to a boarding house you will need to transport them somehow.
Dogs
Dogs have a few options. A safe hideaway in a cage in the boot of the car can be great for your dog. Shaped cages to fit awkward boot spaces and guards that keep dogs from jumping from the boot onto the back seat are available. We can order in the best item to suit you so come and have a chat with us in store. Give them their favourite toy, their bed or a blanket from home and it all helps to keep them calm and happy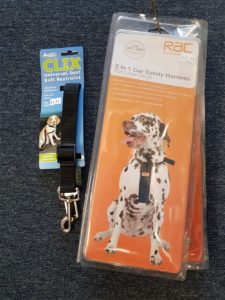 .
If you need the boot space for luggage you can always use a dog seatbelt to keep your pet safely restrained. Remember your attention should be on the road, so making sure your dog is secure is vital. It is also recommended that they stay in the back to avoid distracting you. Let's face it who could resist looking at your gorgeous pooch! Again here a favourite toy or blanket can be really helpful. There are a few options available for seat covers, boot liners etc, which we tend to order in to suit your needs, so pop in early to get everything prepared.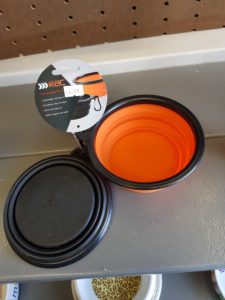 Travel bowls, which fold down, and water bottles with a fold out drinking bowl, are great when travelling with your dog. Don't forget dogs really suffer in hot cars so take regular breaks. Stretch their legs, get fresh air and let them drink plenty. Remember on hot days the paths and roads can get extremely hot. Hot paving can burn pads so try to stick to early morning or evening travelling, and stick to grass if you can. We stock cooling mats which are great for travelling and can order in cooling vests which are great.
Cats
Transport cats using an appropriately sized carrier. Never allow cats to free roam the car as this can be extremely dangerous. Keeping the carrier lightly covered making it dark inside can help cats stay calm. Be careful on hot days that they do not get too hot. Place a cooling mat inside the carrier on hot days to help keep your cat cool. If they have a blanket or small bed which they can take this can help relieve stress and even a t-shirt with your scent on can be calming to your cat.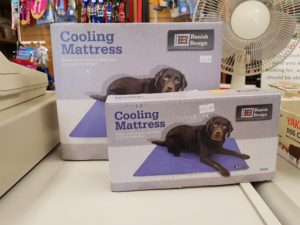 It can be difficult to get your cat to drink on a journey but it is still worth offering water if you are travelling a long way. Slowly pouring the water into a bowl in front of them usually works better than offering a bowl as they like to lick at running water. Offer water while enclosed in the car in case your cat tries to escape. Taking the carrier out of the car to a cool place for fresh air can help on hot days if the journey is long, but do keep the carrier securely closed to avoid any accidental escapes. A stressed cat can act unusually so don't risk it.
If someone is coming in to feed your cat make sure you keep the rooms cool, draw the curtains to avoid the room getting too hot. Leave enough fo
od and make sure they have the number for your vet.
Rabbits and Guinea Pigs
Rabbits and Guinea Pigs are especially prone to heat stroke so extra care should be taken when travelling. It is a much better option to find a friend or family member who will come over once a day to check on them than to take them with you.
If you do travel to a boarding home do so during the cooler parts of the day and keep travelling to a minimum. Wrapping a bottle of frozen water in a towel and placing it in their carrier can help if the weather is very warm. Take their favourite treats as stressed rabbits and guinea pigs often stop eating so need tempting. Keeping the carrier dark is really helpful. Don't be tempted to travel with your pet on your lap. When stressed they can act out of character and wriggle free causing a serious hazard in a car. You are also very warm so your pet will be more likely to overheat.
If you are leaving your pet at home make sure you add extra water. A bottle cover can help keep water cooler and prevent algae forming. Make sure cages are out of direct sunlight, pull curtains to help keep the room cool. Outdoor enclosures must have plenty of shade and make sure the runs is escape proof and predator proof. Don't shut your pet in a small hutch even if it is just for a week. Make sure you leave enough food and the contact number for your vet.
Small Pets
Small pets do not respond well to heat so it is best not to travel with them. Usually, if given an extra water bottle and enough food, a small pet can be left for a short break. If someone can come in and check on your small pets every other day that would be ideal. Keep the cage in a cool room away from sunlight. Draw the curtains to keep the room cool.
Keeping Calm

We have lots of options for helping to keep your pets calm in stressful times like travelling or boarding. There are calming collars, Spot ons, tablets, plug ins, calming treats, sprays. With so many products we are bound to find one to suit your pet. Remember to pop in early to make sure we have time to order in the best items for you!
Holiday Pests, Injury and Illness
Remember in a lot of holiday destinations pests like ticks and fleas can be more prevalent. Make sure your pet is up to date with vaccinations, flea, tick and worming treatments. If boarding most places will want to check this.
Take a small first aid kit for your pet. Essentials like tick tweezers, anti-sickness tablets, diarrhoea tablets, vet bandage and pet antiseptic are great to have and can save an expensive vet bill and stress of finding a local vet while you are away. It is always worth finding details of the nearest vet to your holiday home before you go in case of emergencies.
Don't Forget
Don't forget to take a couple of pet towels, maybe some pet cleansing wipes and dry shampoo. Take their usual food and don't be tempted to offer too many treats just because you're on holiday. The last thing you want is to upset your dogs gut while you are away!
And finally…
have fun!
Enjoy your holiday with or without your pet. If you have made the effort to put a little bit of preparation in you can relax and enjoy yourself knowing your pet is happy and well looked after.