The weather change brings lots of change in the garden. We gain visitors from abroad and some of our summer friends leave on the long journey to warmer places. It's really important to ensure that we offer them plenty of fuel for their journey and a welcoming meal for our new guests. Suet and fat balls are great for building up our birds and giving them the energy they need. Peanuts are also a great source of energy, offering peanut grounds on tables and on the ground and whole peanuts in mesh feeders will provide a meal for a wide range of visitors.
Keep an eye out for migrants passing through, like redwings and waxwings. These passing migrants flock over rowan trees and similar, stripping the berries to fuel the next leg of their journey. Growing shrubs and trees, like rowans, will not only provide food in the autumn but shelter and nesting opportunities too.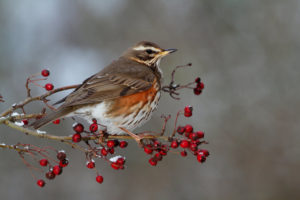 Now is an ideal time to put up nesting boxes and clean out and check old boxes for damage before the birds start to look at potential sites for spring.