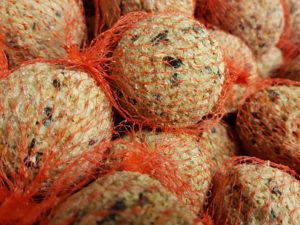 It is in the winter when our birds need our help more than ever.
Fat balls, suet trays, etc are ideal for keeping our smallest of birds warm on the cold days of winter. Tits come together to make larger flocks at this time of year and will move around together seeking out high energy food to stay warm. Again, peanuts are ideal due to their high energy content.
Water can be as scarce in winter as in summer due to ice. Check birdbaths regularly to make sure they haven't frozen. Putting a ball in your birdbath can help to stop it freezing over, as the movement of the ball keeps the ice from forming.
During winter birds start to look at nesting locations, so it's a good time to start putting out nesting materials. Some birds will even roost in potential nesting sites, so offering some warm nesting material will be welcome.